Electric motorbikes have been around almost as long as electric cars - but just like them, they are only now starting to hit the mainstream, and there's as many new brands developing bikes in the hope of forcing their way into the market as there established heavy-hitters.
What's clear is that there's something for everyone on the market or coming to it, with prices of the bikes we've highlighted ranging from £3499 to £28,995, power from 5bhp to 200bhp, and range from 50 to 300 miles. If you're minded to buy one, there's an electric bike out there to suit every taste
Below, we round up six of the best motorbike EVs that you can buy today, as well as listing four of the most exciting that are set to hit the showrooms in the not-too-distant future.
SIX OF THE BEST MOTORBIKE EVs YOU CAN BUY NOW
Price: £28,995
Power: 78kw/105bhp
City riding range: 100 miles
DCFC Recharge time: 100% - one hour
A groundbreaking step from a regular (petrol powered) motorcycle manufacturer, Harley Davidson hit this one out of the park. The Livewire isn't just a quality electric motorbike but is just a quality bike in general. Brembo brakes and Showa suspension help hide the 251kg weight and the Livewire feels like the most dynamic Harley Davidson ever made, regardless of what's powering it.
We love the haptic pulse, a synthetic replica of the feeling a petrol V-twin gives when stationary, which makes the bike rock slightly between your legs. We also like the mid range punch at A road overtaking speeds. You might think the top speed of 115mph isn't enough, but one ride is all it'll take to convince you otherwise. The Harley Davidson Livewire is genuinely great fun to ride.
If you're in the market for one, it might be worth hanging on until 2022 though. The original purchase price of £28,995 has just been slashed in the USA to around £15k in a bid to get them moving off the showroom floor. It's likely that the UK will adopt this new price next year, at which time we expect to see plenty more of these on the roads.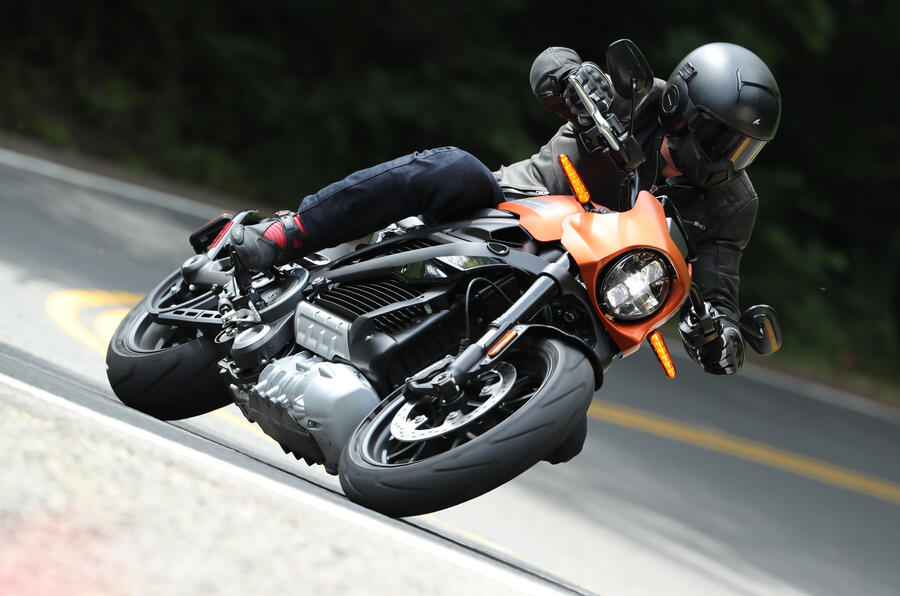 2. Zero SR/S
Price: £19,590
Power: 82kw/110bhp
City riding range: 130 miles
DCFC Recharge time: 100% - two and a half hours
Zero have been making electric bikes since 2006 and are viewed by many as the market leaders when it comes to EV motorcycling. Sales figures of 4000 global units in 2020 might not sound that strong, but we'd expect that number to increase significantly this year.
The Zero SR/S has more range and more power than the Livewire, but is missing some of the dynamic and touchpoint refinement. The full fairing offers a touch of weather protection and looks pretty slick compared to the naked model (the SR/F), but you should expect the same blistering straight line performance from both.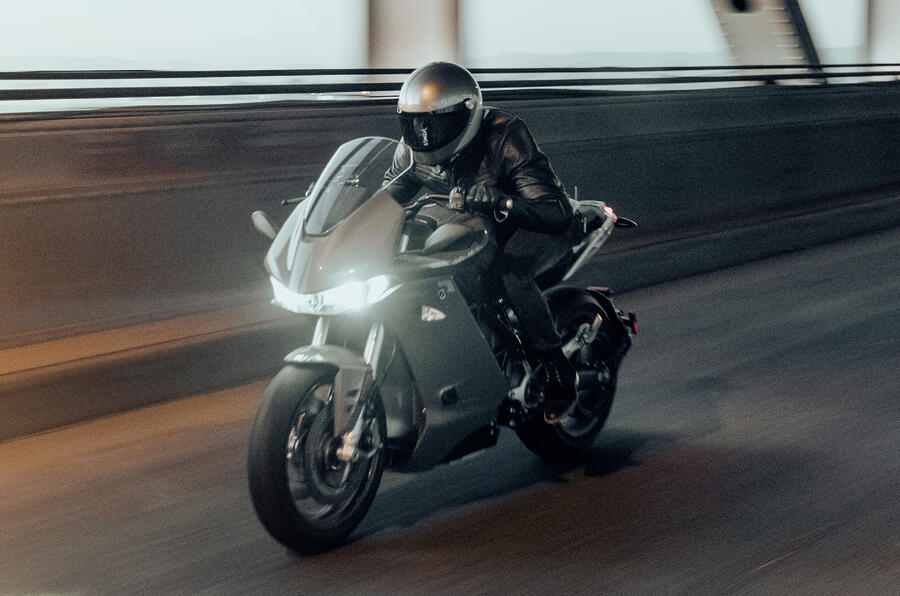 3. SuperSoco TC Max
Price: £4249
Power: 5kw/6.7bhp
City riding range: 60 miles
DCFC Recharge time: 100% - seven hours (not fast charge compatible)
Just about managing to feel like a motorbike, rather than a powered mountain bike wearing an overcoat, the SuperSoco offers the ideal gateway into life on two EV wheels. It's skinny and feels very light, making it ideal for beginners or those making the transition from pedal power.
Don't be fooled into thinking it's a toy though; round town the TC Max is more than capable of staying ahead of traffic. Push too hard and the speed available can overcome the chassis a little, but leave it in one of the lower power modes and everything makes perfect sense. The charging system is a doddle to use and it costs very little. All in, it's a bit of a bargain.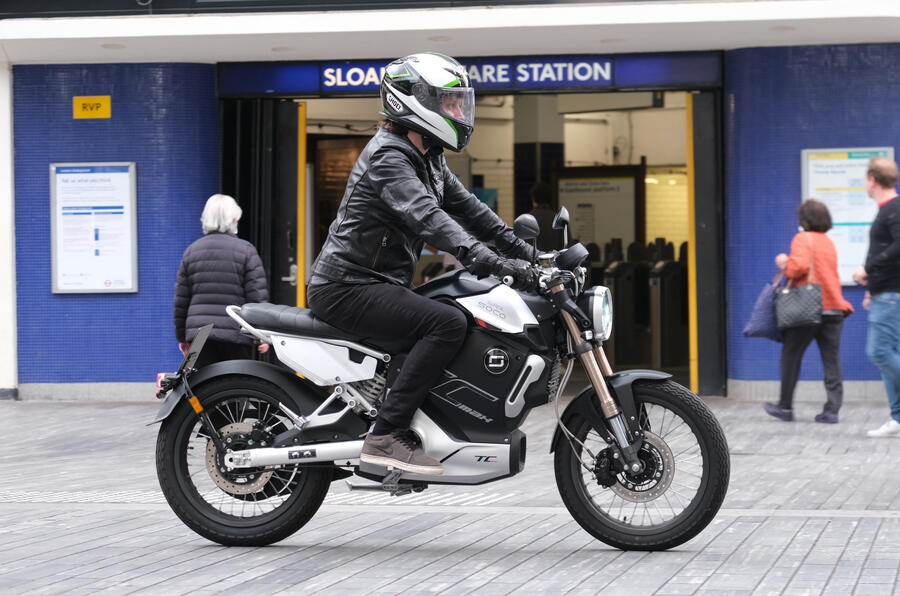 4.  Vespa Elettrica
Price: £6600
Power: 3.7kw/5bhp
City riding range: 50 miles
DCFC Recharge time: 100% - four hours (not fast-charge compatible)
Classic Vespa looks from the kings of making personal transport are a great start. Established dealer networks in major cities (thanks to the petrol powered versions laying all the foundations) means that, unless you live in the middle of nowhere, you wont struggle for dealer support. The brushless motor and battery are (like most others) maintenance free, there's easy-peasy pairing with your phone, allowing the screen to become an extension of your digital obsession.
Make sure to choose the faster version of the two available, offering you 44mph and only costing £300 more than the 30mph model. Range on paper is approximately 50 miles which might not sound like much, but even the petrol versions were only ever designed with short rides in mind. Visual heritage doesn't come cheap, mind. £6600 is far too much for most, particularly when you consider the Sunra will go further and faster for much less.
5.  Sunra Miku Super
Price: £3499
Power: 3kw/4bhp
City riding range: 80 miles
DCFC Recharge time: 100% four hours (not fast charge compatible)
Electric bikes are still in their infancy, so nobody really knows which way to go in order to catch the eye of potential customers. Offering something different, Chinese firm Sunra has established a monster global network and is ready to push into the UK.
This Miku Super has minibike dimensions, making it ideal for everything from bolting to the back of a campervan to squeezing into tiny parking bays in the city. It'll zip along at 50mph no problem and despite the brakes, suspension and tyres all being unbranded, puts in a commendable show all the way to the pegs scraping. A three-pin plug charge takes four hours and you can expect around 80 miles in return.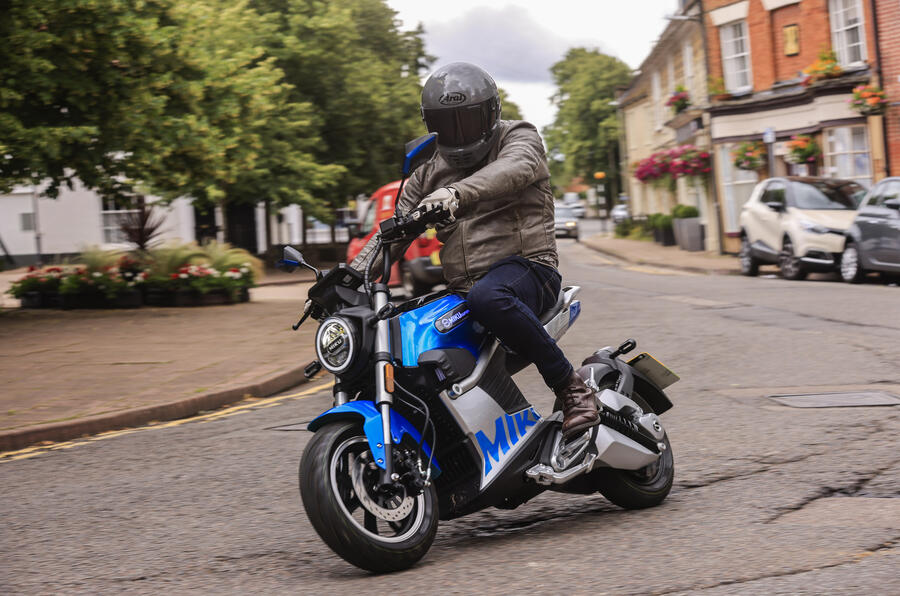 6. Energica Eva Ribelle RS
Price: £19,590
Power: 126kw/169bhp
City riding range: 261 miles
DCFC Recharge time: 100% - two and a half hours
Italian designed and built, picture Energica as the Ducati of the EV world. Built in Modena, this RS model is billed as the hyper naked of Energica's range. We like the charge interruption, which allows the rider to set the exact amount of charging time required. This means if you only need to charge it for an hour every night, it'll stop when it's had what you want it to take.
Marzocchi forks and Bitubo shock are premium in every sense, as are the Brembo radial mount brakes. There's six levels of traction control to choose from and genuinely very little for internal combustion bikers to poke fun at. Expect to smoke hypercars and petrol powered superbikes in a straight line, just remember there's 260kgs (the same as the average Harley Davidson) waiting to be told what to do when you get to a corner. Probably our pick of this current crop.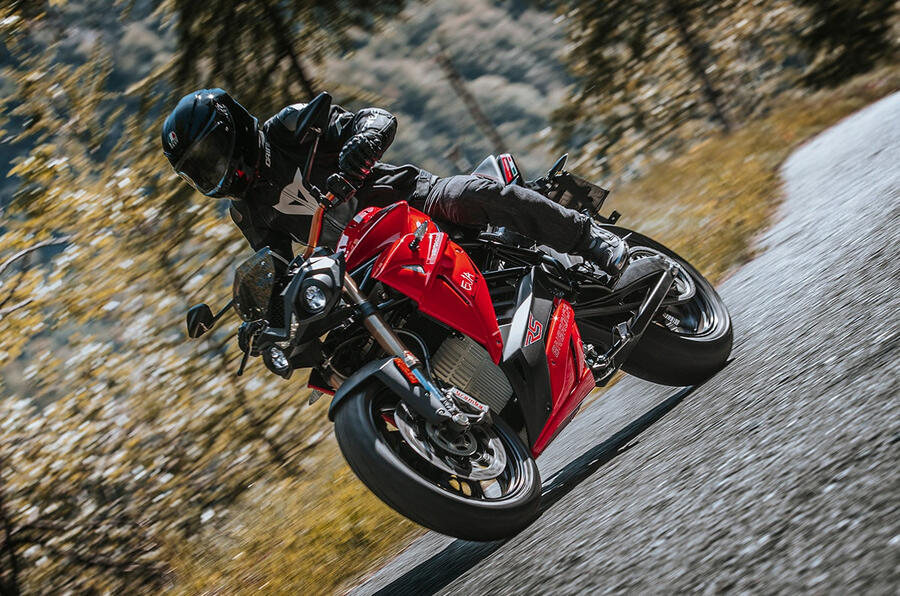 EV BIKES WORTH WAITING FOR
Some of these bikes are already in production in the USA, we're just waiting for dealer networks to establish, while others are still in the concept phase but give a glimpse into what's coming.
1. Triumph TE-1
Price: TBC
Power: 130kw/178bhp
City riding range: 120 miles
DCFC Recharge time: 80% - less than 20 minutes.
A fascinating collaborative effort between Triumph Motorcycles, Williams Advanced Engineering, Integral powertrains and Warwick Uni, the TE-1 will elevate EV motorcycling further than anything currently available. That's not just because it'll offer a 98 mile charge in under 20 minutes, or because it'll have 175bhp and yet only weigh 220kg - this bike will be very good because it's built by a company that already knows how to make amazing bikes.
Top quality brakes and suspension, coupled with all that performance and wrapped up in 'Speed Triple from the future styling' will make this one hard for the petrol diehards to ignore. Fingers crossed Triumph has watched Harley struggle to sell the Livewire because of the too tall ticket price. If this bike is priced closer to £15k than £20k then it'll be a bestseller.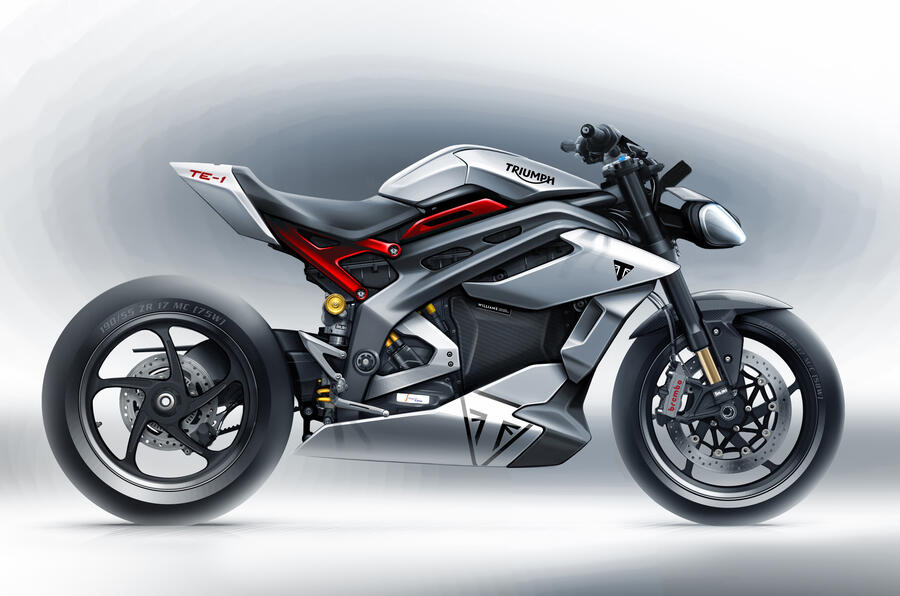 DAB Motors Concept E
Price: TBC
Power: 10kw/13bhp
City riding range: 68 miles
DCFC Recharge time: TBC
Show us a biker that isn't drawn to the lightweight lines of this French Supermoto style beauty and we'll show you someone that's ready for a bus pass and a blanket.
Beringer brakes, a carbonfibre chassis and swingarm, plus Ohlins suspension are unlikely to make it to production as it would end up costing an absolute fortune.
The low power output of just 13bhp means that it'll be learner licence friendly and good for about 60mph, so kids should be lining up around the block to get on one. If DAB Motors can find a price to suit, they won't be able to build these quick enough.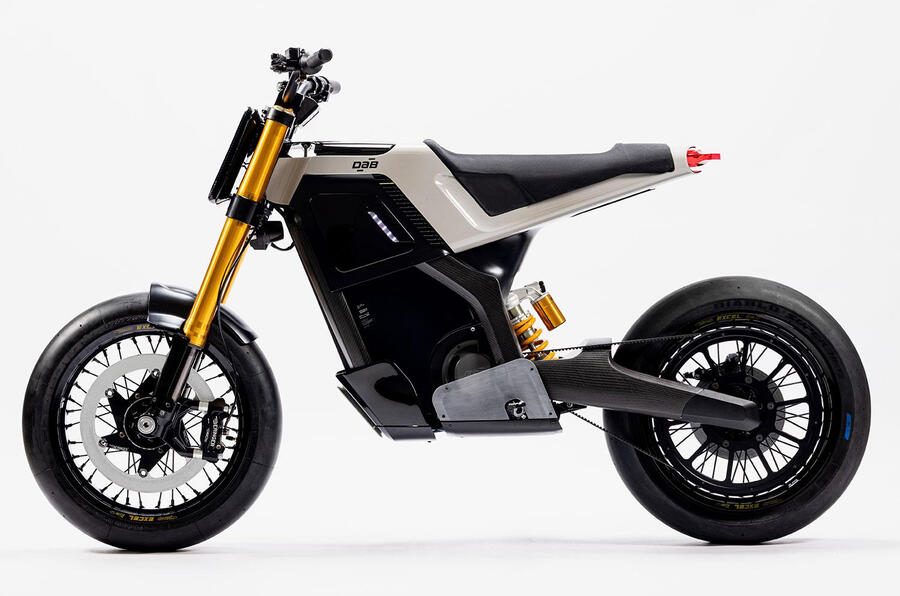 Lightning LS218
Price: $38,888 (USD)
Power: 150kw/200bhp
City riding range: 100 miles
DCFC Recharge time: 100% - 60 minutes
The 218 in the name amounts to the speed this bike achieved in mph at Bonneville in 2011, allowing Lightning to stake their claim on the fastest production bike (petrol-powered or otherwise) on the planet. The same model also won the two-wheeled open class at Pikes Peak in 2013, so the LS218 is clearly the real deal in performance terms.
In 2019 Lightning announced details on the Strike (think Tesla Model 3), a much cheaper and less powerful alternative to the LS218. Customer experiences seem to have been mixed and there appears to be some questions over the difference between the technical specification you pay for and what gets delivered. The potential in the bike and the company is obvious; the reality is still a little unclear.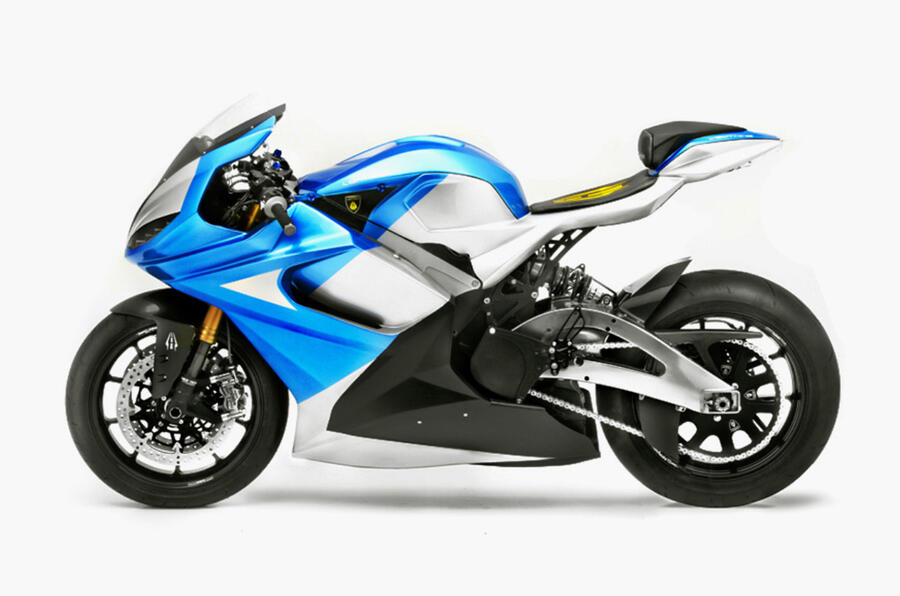 10. Damon Hypersport
Price: $24,995 (Canadian dollars - about £14,500)
Power: 150kw/200bhp
City riding range: 300 miles
DCFC Recharge time: 100% - 60 minutes
Canadian-born Damon mean business, in every sense.
The numbers are bold - 200mph, 300 miles of city riding range and 200bhp all sound amazing. The Hypersport is also a well proportioned bike that blends the appeal of a traditional sports bike with whatever the future has in store for us. There are cameras front and back that work with a radar system to provide safety warnings to the rider. There's also a so-called SHIFT system that changes the ergonomics from sports bike to comfortable commuter at the push of a button.
We'll believe all this when we see it and, while deposits are being taken and bikes are out there, there is no dealer network in the UK yet.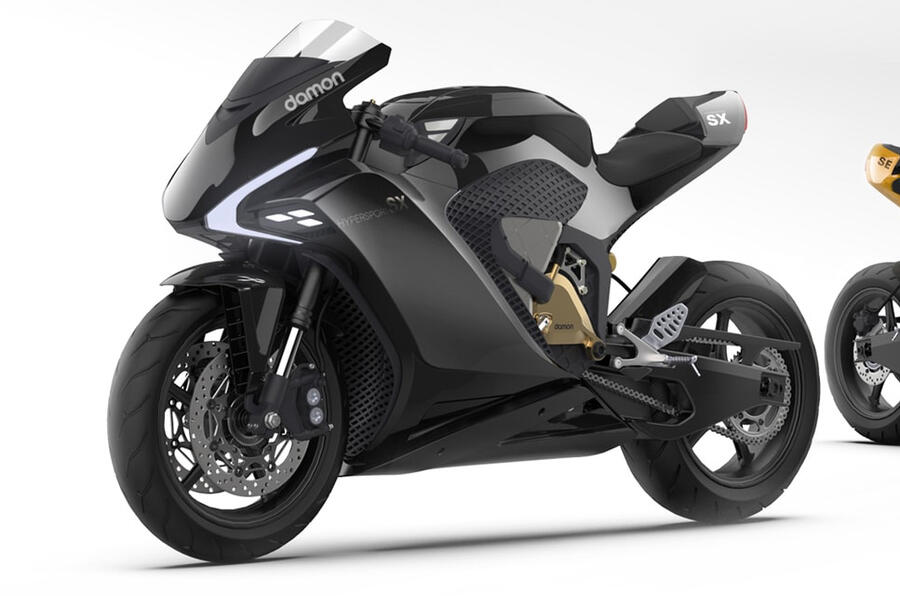 READ MORE
e-CARS
e-BIKES
e-MOTORBIKES
e-SCOOTERS